This vintage tea set is such a stunning find! Initially, we were drawn to the absolutely gorgeous hues of blue – definitely an eye-catcher. But to touch, hold, and feel the true weight and beauty of this handmade stoneware pottery in all its glory really takes it to the next level! Such a fabulous, unique collection. One of our all-time shop favorites, for sure!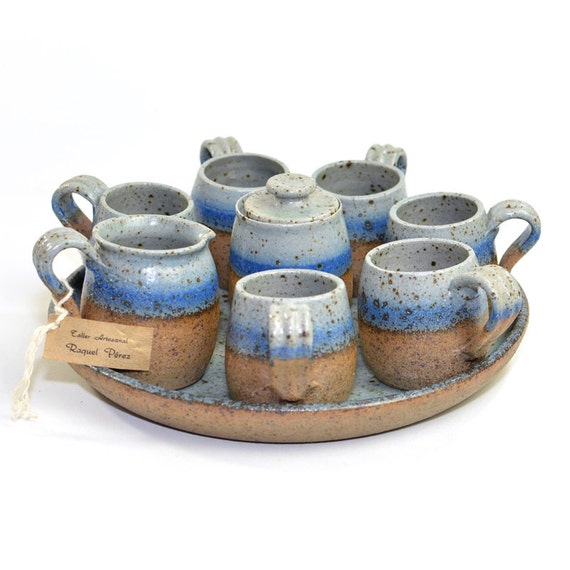 Stoneware Pottery Tea Set, Signed Raquel Pérez, Venezuela
Gorgeous shades of periwinkle and pastel blues accent this natural stoneware vintage pottery with a brilliant ombre effect. Natural, charming, and perfect for cottage chic kitchen styling!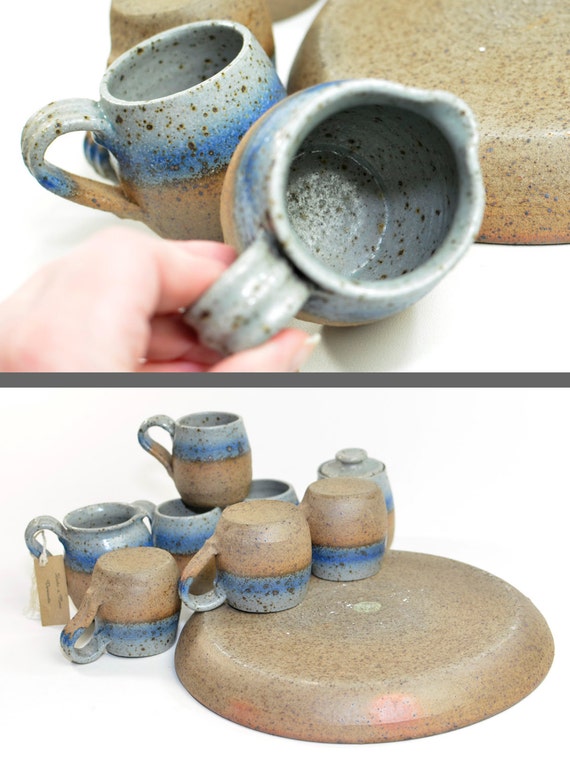 This listing includes a large tea set signed by studio pottery artist Raquel Pérez of Taller Artesanal, Venezuela. All pieces are included as shown: six teacups, a creamer pitcher, a lidded sugar bowl, and the perfectly-sized serving tray to complete the collection.
Excellent vintage condition. No chips, cracks, or structural damage found. Extremely light shelf wear is apparent on the bottom of the tray; otherwise, there are no signs of past use or wear.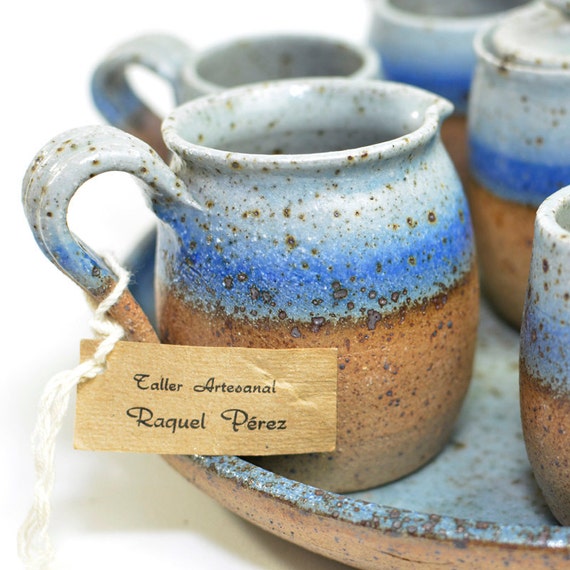 Each piece in this lovely collection is stamped on the bottom by "Taller Artesanal" pottery studio.
The creamer pitcher bears an original hang tag, secured with soft rope, stamped with "Raquel Pérez, hecho a mano (handmade), Venezuela" as well.
This unique serving ware was crafted for utilitarian use and offered for sale at local markets. The overall beauty and charm made them exquisite tourist souvenirs and gifts, which is likely how this brilliant find made its way back to the USA, circa 1970's.
For more unique finds, treasures and gift ideas, visit our shop: One Rusty Nail on Etsy.