Wunderbar! Who can resist such an adorable collection?! We were instantly drawn to this traditionally German-styled set by its beautiful coloring and detail. The artisan faux "aging" technique gives it so much rustic charm and character. That cobalt blue glaze is so lustrous, very eye-catching. 
This is one of those treasure hunt finds that starts out as love at first sight based solely on appearances, but ends up completely surprising you with its degree of rarity, too. Some careful research shed light on the origin and process of this collection – what a gem!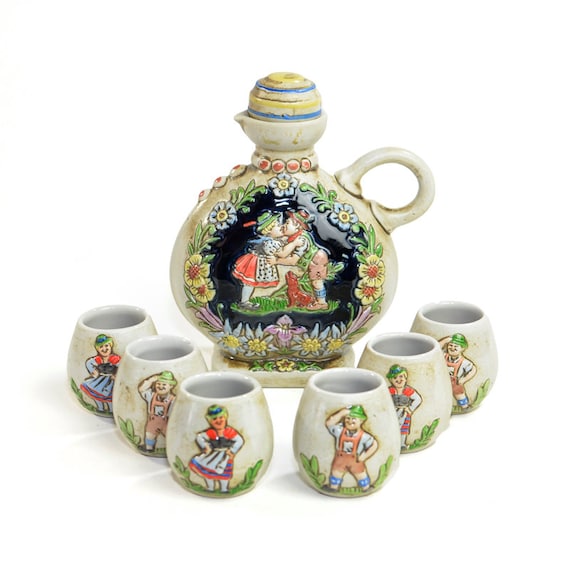 Anheuser-Busch Ceramarte German Decanter & Shot Glass Set
This 7-piece collection was created exclusively for Anheuser-Busch / Budweiser as a LIMITED EDITION promotional set in 1976. It includes a highly-detailed decanter with cork stopper and six matching shot glass cups in traditional Bavarian styling.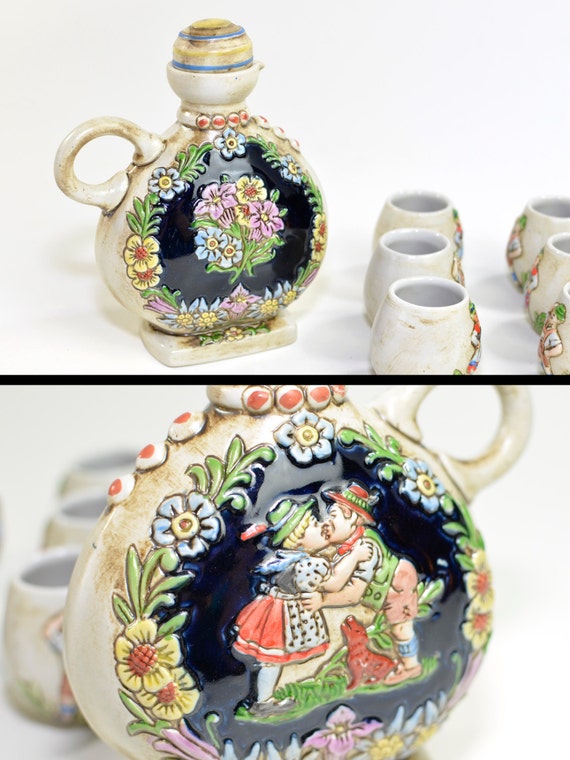 Everything in this set is made of thick, quality ceramic and is hand painted. All pieces feature a wonderful raised design, adding great texture!
Each piece is highly stylized, crafted with a rough paint technique in brown on the exteriors, creating a faux "aged" effect.
The center imagery on both sides of the decanter (boy and girl kissing on the front, a floral spray on the back) features a striking, deep cobalt blue glaze background.
The six matching cups are each adorned with the same costumed figures – three cups with the girl, three cups with the boy.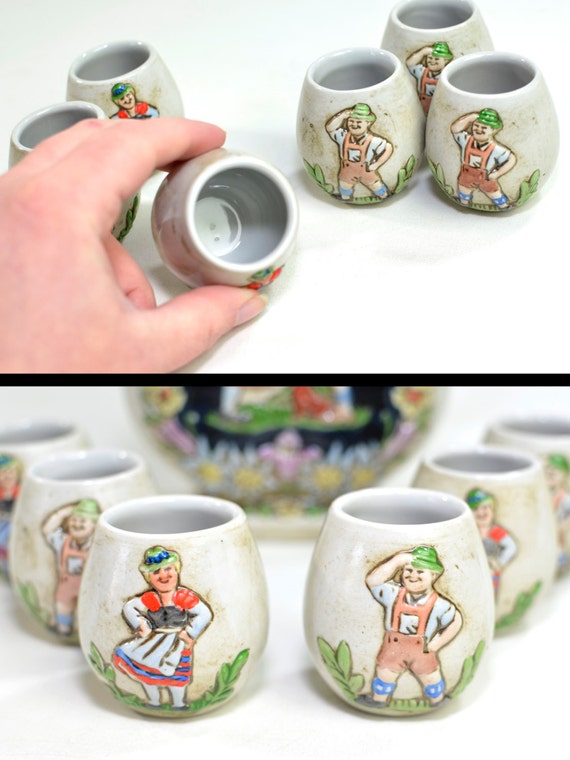 Truly a colorful, fun, quaint little set to own – whether for decorative purposes in the home bar, or for functional use. Definitely an eye-catching conversation piece!
This collection is in great vintage condition. No chips, cracks, or structural damage found to any piece. We've gently cleaned this set prior to listing, and as you can see, the brown "aged" appearance is artist-applied, NOT dirt or wear. Clean interiors on all pieces. No signs of past use (other than display, perhaps) found.
The set was created as a limited edition promotional product for Anheuser-Busch / Budweiser in 1976 by Ceramarte, Brazil. It is completely hand painted, and all pieces bear the signature logo backstamp of Ceramarte.
The decanter is marked "Coracao" stamped in the mold. Model number (as identified in collector's catalogs) is CS31, part of the "Early Years" collection.
Own this amazing vintage Anheuser-Busch collector's set today! Have a peek through our shop for other rare vintage collectibles, too!