Every so often, we stumble upon a truly remarkable find. On a recent treasure hunt, we came across this beautiful antique clock. With one glance at the backstamp, Arnold was hooked! You see, he's a recently-immigrated-to-the-USA Dutch citizen, and he loves the rare Delft collectibles. We had a great time researching this piece!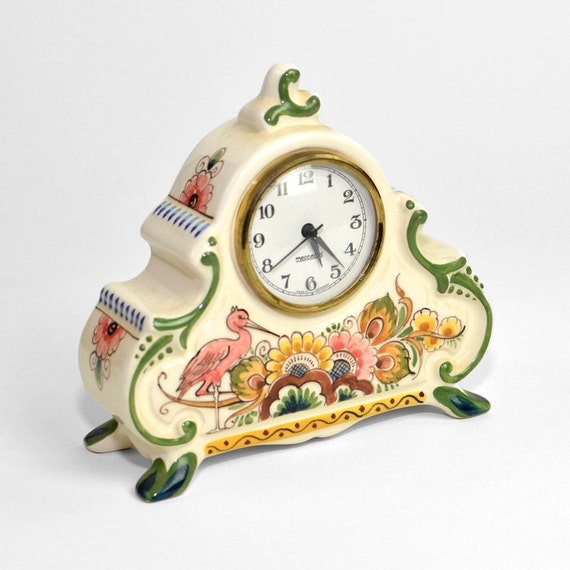 Hand Painted Porcelain Mantle Clock by Delfts Schoonhoven, Made in Holland
Exquisite! This beautiful antique clock case is an extremely rare find with an interesting history. Unlike the common "Delft Blauw" (blue) collectibles, this piece is "Gekleurd Delfts" (colored).
It features an elegantly detailed hand painted pink stork (traditionally symbolic Dutch "ooievaar") and floral scene on the face, with matching flourishes and details on the top, sides, and feet. A stand-out piece for any Delft collection, and an exceptional touch of vintage for your mantle!
This clock was made in Holland, at Plateelbakkerij Schoonhoven (PS). This factory, founded in 1920, operated as a small family-owned business 15 kilometers south of Gouda, a major center in Delft Pottery. Plateelbakkerij Schoonhoven is one of the few Delft pottery companies still in operation, now known as Schoonhoven Keramiek.
Despite our research efforts, we have not been able to put an exact date to the age of this clock case (it does not bear a typical alphabetic date code). Our best estimate is circa 1930's to 1940's based on the crafting styles, techniques, and history of the company.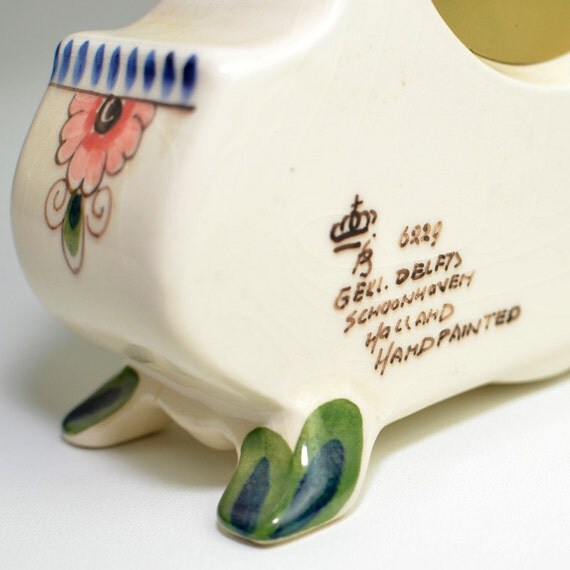 The backstamp on this piece includes a crown symbol, sometimes referring to "Royal Delft", with the signature "PS" marking indicating the manufacturer Plateelbakkerij Schoonhoven. It is also marked "Gelk." (gekleurd, colored) "Delfts, Schoonhoven, Holland, Hand Painted," with a model number "6229".
The clock case itself is in great antique condition. There are no chips or cracks found. Heavy crazing exists throughout the piece, showing great character of age. For more information, click on the photos to visit the listing directly, and feel free to contact us with any questions!