Last week, we listed an amazing set of authentic restaurant ware from The Berghoff in Chicago. Picking and selling vintage is always a learning experience full of interesting information and history, and we feel this set deserves a little extra recognition!
Do you know The Berghoff?
If you're from the Windy City, this name is likely very common to you! The Berghoff Restaurant is one of Chicago's most famous landmarks and brings some very unique history to the table.
Located right smack in the center of Chicago's Loop at 17 West Adams Street, The Berghoff has built its long-standing, iconic image on its original-label beer brand and authentic flavors in the German cuisine niche.
Pioneered and developed by German immigrant Herman Berghoff, the restaurant was opened in 1898 – just five years after Herman debuted his family-recipe beer to the city at the Chicago's World's Fair of 1893.
The Berghoff Restaurant itself actually began life as a bar, and during the prohibition period, it survived by marketing a non-alcoholic beer (now known as Berghoff's Root Beer) and becoming a full-service restaurant. When prohibition was repealed in 1933, The Berghoff was issued Chicago's very first liquor license (No. 1).
Another interesting historical aspect of The Berghoff lies in the segregation practices of the era. Until 1969 – long after most other restaurants and bars ended gender segregation – The Berghoff remained a men's-only bar. This changed when members of the National Organization for Women held a sit-in at the bar, demanding service.
The Berghoff was slated to close in 2006, but descendants of Herman Berghoff continued to operate a small basement cafe afterwards. A few months later, The Berghoff Bar was back up and running, and the operation is now back to full-service restaurant status.
According to Wikipedia, in 2007, 'The Berghoff reopened with a new menu. It's now considered German cuisine fused with Contemporary American, tagged as "tradition with a twist."'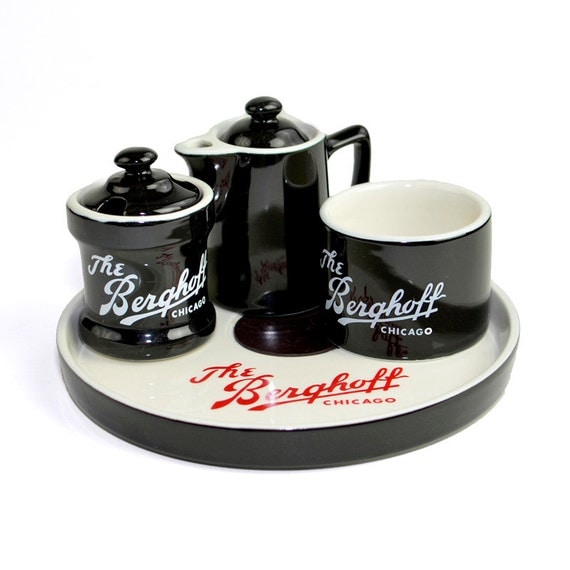 Recently, we came across this incredible set of vintage Berghoff restaurant ware on our treasure hunting adventures, and it was simply too good to pass by! We are now offering it up for sale in our Etsy shop, One Rusty Nail.
I'm fairly confident in saying that you won't find another set like this very easily. Sometimes you'll be lucky to find a single piece here or there, but very rarely such a complete centerpiece serving collection as this. Read on for more information directly from our listing page: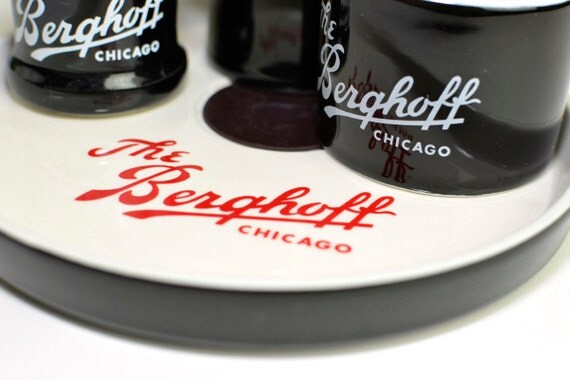 "A perfect addition to your Berghoff collection, or perhaps a unique gift for the Chicago native! This listing includes everything as pictured, all in very heavy duty, thick, quality ceramic. Stunning bold contrast of black, white and red. Hard to find pieces, offered here in an instant collection!
In excellent used condition, the only noted flaw is some chipping and wear damage to the inside of the cream pitcher's lid, as shown. This damage is not visible on the outside, and does not affect the usability or visual quality of the set. No other chips, cracks, paint wear, or flaws noted. The glaze is lustrous and glossy, with no crazing found.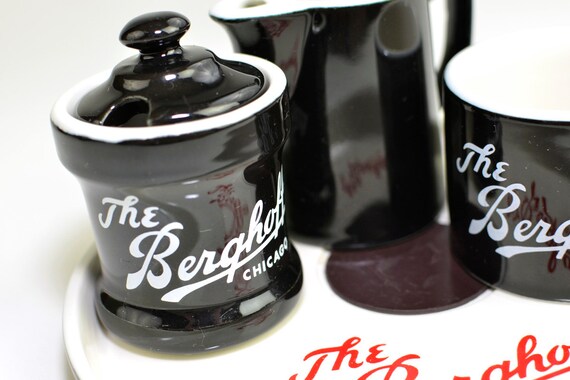 Each piece, with the exception of the cream pitcher, is marked with "The Berghoff Chicago" scripted logo. There are no other manufacturer's markings. The exact age and origin of this set is unknown. We've done a lot of searching for background information on these pieces, and the closest we've come to knowing is estimated circa 1970's, possibly earlier."
For more information, click here to visit the complete listing page.